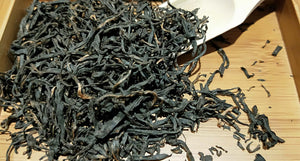 Lapsang Souchong Zheng Shan Xiao Zhong Black Tea Organic Exclusive
$7050

$70.50
Tax included.
---
---
Lapsang Souchong is the first-ever black tea in the world. This exclusive grade Lapsang Souchong made in its original place, Fujian province. It is hand-harvested from 50+ years old organically grown tea trees, and it's hand made.
Red and clear liquid with a roasted pine fragrance. Full-bodied taste with a slightly sweet aftertaste.
Brewing Tips 
35ml water for 1g tea leaves (adjust the amount to personal taste).
Water temperature: 80 - 85 degree.
Tea Rinse: steep the tea for 1 - 3 seconds, and then pour away the first brewing.
Steeping Time: 15 - 30 seconds for the first brewing. Increase the steeping time to personal taste. Can be reinfused for at least 5 times.
Storage: Store in a cool, dry place that is absent from foreign odour.