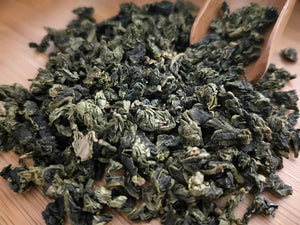 Iron Buddha (Tie Guan Yin)
$1500

$15.00
Tax included.
---
---
One of the top 10 teas in China. Grown in Fujian province since around 1723. It is the most well-known Chinese Oolong tea in the world.
Carefully selected exclusive grade tea leaves, produced by tea masters with the unique traditional Tie Guan Yin processing skills for the top-grade product.
Strong yet clean floral aroma. Gentle and delicate taste with a long-lasting sweet aftertaste. 
Brewing Tips:
Water Temperature: 95 - 100 Degree.
Tea Washing: Steep 1 - 3 seconds, and then pour away the tea.
Steeping Time: 30 seconds for the first brewing. Increase steeping time for every next brewing based on your personal flavour.
Storage:
store in a cool, dry place that is absent from foreign odour. Refrigerate it for long term storage.